The mad computer scientists of SkookumScript have wrapped our second-annual Expo booth at the Game Developers Conference in San Francisco (March 14-18), and we are pleased to report that our diabolical scheme to conquer large swaths of the video game development industry has progressed magnificently!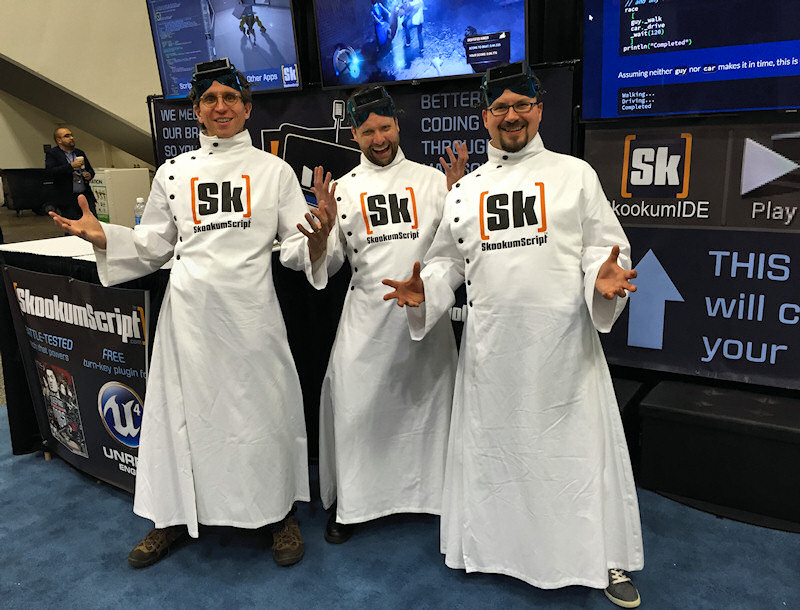 We further strengthened our ties with Epic Games by meeting with several Epic staff. Epic is very keen on our SkookumScript Unreal Engine 4 Plugin—last fall they awarded us a coveted Unreal Development Grant to support its development—and they are preparing to launch SkookumScript as one of the first code plugins on their Unreal Marketplace.
Elsewhere on the game engine front, representatives of the brand-spanking-new Amazon Lumberyard expressed great enthusiasm for us to integrate with their engine, and even the industry-leading Unity3D Engine is considering future SkookumScript integration. This is more great news, as our non-secret master plan is to integrate SkookumScript with every game engine on Earth.
We returned to GDC enjoying valuable provincial and federal government support—we lead the Government of British Columbia's March 14 story about B.C. companies attending GDC, and had a productive meeting with B.C. and federal trade officials who are helping to connect us with mentors, clients and investors. We tip our goggles to all governmental entities that see the wisdom in supporting our glorious SkookumScript revolution!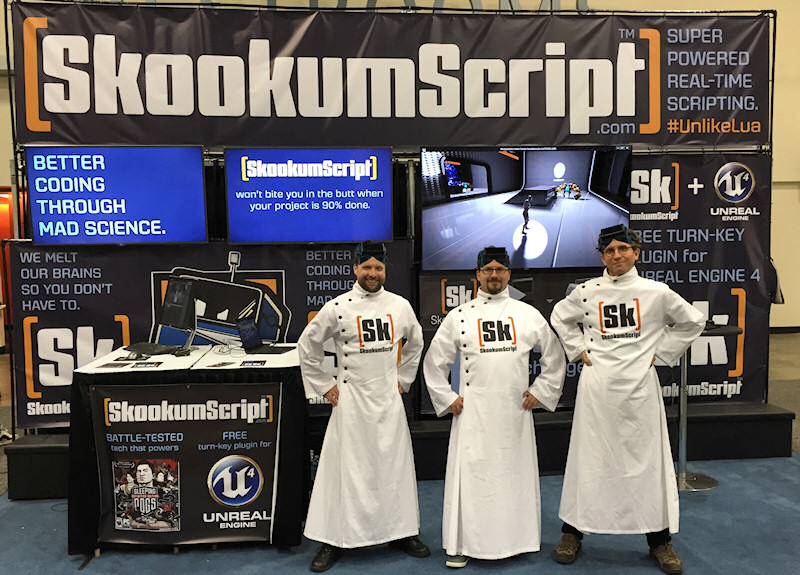 This year our Expo booth was 20'x10'—twice the size of last year's booth—and the extra space was well-used by the throngs of game developers and studio mucky-mucks who wanted to learn why SkookumScript is their superpowered scripting solution. In fact, so many people wanted to talk with us that we almost caused a freak lozenge shortage in downtown San Francisco. (Thank you menthol, we couldn't have done it without you!)
Resplendent in their iconic lab coats, SkookumScript creator Conan Reis and Agog Labs CTO Markus Breyer delivered compelling and memorable demonstrations of SkookumScript and its tool suite.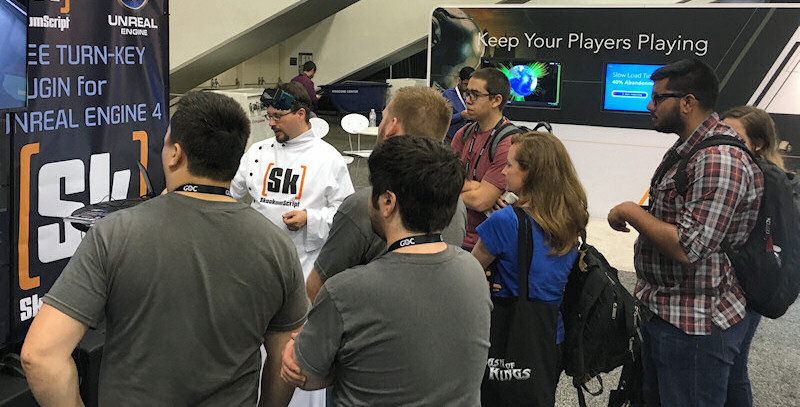 It was an exciting, exhausting, and ultimately very productive week, and we can feel the momentum building as more studios and developers learn about the ripping piece of next-gen gamedev tech that is SkookumScript. We will be back for GDC 2017 (February 27 to March 3, 2017), where our Expo booth will be located literally across the aisle from our comrades at Epic Games. As ever, look for our iconic lab coats and listen for our hearty yet megalomaniacal "Muahahaha!"