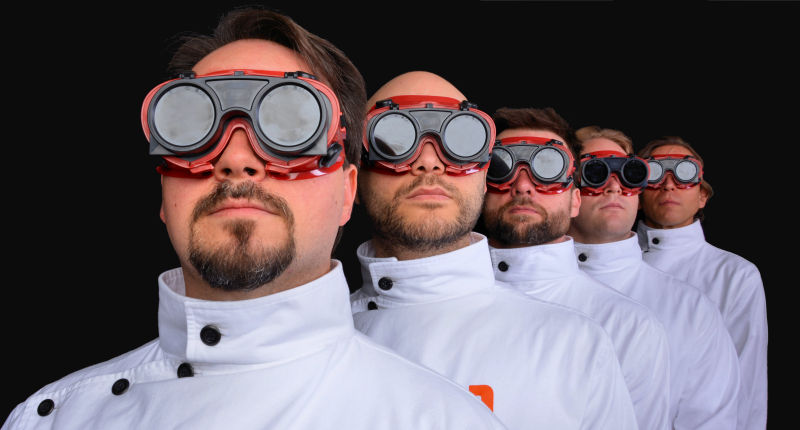 Founder, CEO, Chief Mad Computer Scientist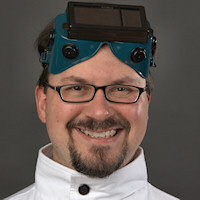 SkookumScript creator Conan Reis (LinkedIn, About.me) is a 24-year video game industry veteran and a world leader in the design and implementation of video game programming languages. He specializes in the gameplay and artificial intelligence aspects of game development, and creates 3D world editors, the guts of game engines and other development tools.
His programming languages include the distributed language "Ergo" (developed in 1995, funded in part by a $105K grant from the BC Innovation Council) and "ChewieScript" (developed in 2001 as the successor to the LucasArts' legendary SCUMM scripting language). Conan founded Agog Labs in 2004 to create SkookumScript—after initial development, United Front Games licensed SkookumScript to serve as the backbone of their award-winning open-world games Sleeping Dogs (2012) and Sleeping Dogs: Definitive Edition (2014).
Conan has shipped products for Microsoft Windows, Xbox 360 & Xbox One, Sony PlayStation 2, 3 & 4, Nintendo Wii & GameCube, and Sega Genesis. His titles include LucasArts' Star Wars: Bounty Hunter (2002), Wizards of the Coast's Dragon Magazine Archive (1999), and Electronic Arts' Triple Play: Gold Edition (1996).
When the credits roll at the end of movies about science running amok, Conan's friends often point an accusing finger at him and predict that one of his creations will someday destroy the world… or save it?
I have always had great respect for sane science—but mad science has always been my calling.
Cofounder, CTO, Mad Computer Scientist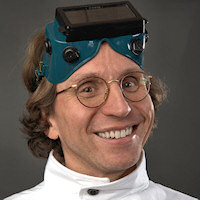 Our technical leader extraordinaire, Markus Breyer (LinkedIn) has 22 years' experience in the video game industry. He has held senior and R&D positions at seven major game studios including 2K, LucasArts and Factor 5, where he shipped ten AAA titles and contributed to over ten more. He specializes in advanced math, animation, simulation, physics, rendering, collision, compression, and speaking in a charming German accent.
Markus was still in high school when he created numerous video games for the Commodore 64, as well as an Amiga audio/video digitizer that was rated #1 by German magazines Deluxe Sound and Deluxe View. While a student at the Technical University of Hamburg, he ran a successful hardware development company designing and selling electronic devices, ultimately graduating summa cum laude with a Masters in Computer Science and Electrical Engineering.
Over his years in the video game industry, he created numerous engine and tool systems, many so advanced he was the only engineer at the company qualified to create them. His previous position as a Senior R&D Engineer at 2K Games included assessing new technologies for potential use in video games—when he assessed SkookumScript, his professional conclusion was that he should quit his job and join the SkookumScript team. So he did.
Mad Computer Scientist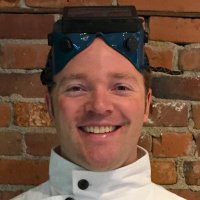 Stephen (LinkedIn) started his programming career in 1998 developing warehouse transaction and payment processing software, but dreamed of making video games (or anything more fun, really). In 2004 he started making flash games for Cackleberries Entertainment, and nine flash games later, he joined Rockstar Games, where he developed AI, animation and other gameplay systems for Bully and Max Payne 3.
In 2008 he joined United Front Games to bring the open-world interactions of Sleeping Dogs to life. Working closely with the mission designers, he built SkookumScript interfaces to the gameplay systems, and realizing the power of the language, started to build gameplay systems in SkookumScript itself. For UFG's Smash and Grab, he brought close-quarters combat to a multiplayer arena.
Outside the Agog mad computer science lab, Stephen harnesses the occult power of heavy metal music to create a temporal vortex in which he can enjoy many more activities than his linear spare time allows, including skiing, co-ed ice hockey, playing guitar in an all-gamedev rock band, and of course playing video games.
Mad Computer Scientist and Designer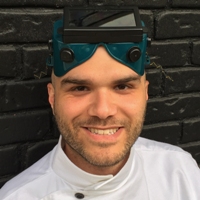 Shadi Dadenji (LinkedIn) is a true citizen of the world. He is half Polish and half Lebanese, was born and raised in Beirut, is quadrilingual, and has lived and worked in many far-flung places. A specialist in computer science and game design, he bridges the gap between designers and programmers, and is dedicated to making SkookumScript increasingly powerful and easy-to-use. Shadi was one of the first SkookumScript users at United Front Games—as they developed Sleeping Dogs, he liaised between engineering and mission design to ensure that SkookumScript had all the bells and whistles the designers needed. After his stint at UFG, he helped ship The Witcher 3 in Warsaw and Horizon: Zero Dawn in Amsterdam before returning to Canada and reigniting his smoldering love affair with SkookumScript. He enjoys singing and playing musical instruments, and is good enough that his neighbours rarely complain about the racket.
Minister of Truth, Lab Wordsmith and Public Relations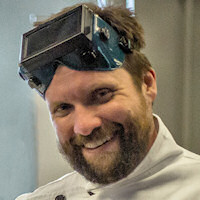 Glen Callender (LinkedIn) is a Vancouver Island-based writer, editor, performer and media artist. He scripted acclaimed dialogue for the Electronic Arts titles Need For Speed: Undercover (2008) and Need For Speed: The Run (2011), and wrote the manual and help docs for TSR's Dragon Magazine Archive (1999). Glen lectures on video game writing for the University of British Columbia's Writing for New Media course. A lifetime ago, he won the top award at the 1992 B.C. Student Film and Video Festival. Glen has produced and performed one-man shows at 13 Fringe theatre festivals across Canada and the USA. He is a passionate cat lover and future crazy old cat lady.
Advisory Board
Legendary game designer and industry visionary Chris Taylor is one of the most influential people in gaming. A 28-year video game industry veteran, Chris Taylor (LinkedIn, Wikipedia) has held positions at Electronic Arts (where he worked with Agog Labs CEO Conan Reis in the early 90s), Cavedog Entertainment, Gas Powered Games and Wargaming.net. He served as CEO and Creative Director at Gas Powered Games for 15 years before selling the studio to Wargaming.net in 2013, whereupon it became Wargaming Seattle (Wikipedia). His titles include the legendary Total Annihilation (declared the "number-one real-time strategy (RTS) game of all time" by Gamespy in 2004), the critically-acclaimed and best-selling Dungeon Siege role-playing game series, the genre-defining RTS game Supreme Commander, the innovative online RTS game Demigod, and the history-based RTS game Age of Empires Online.
By day, Wouter (LinkedIn) creates game and VR C++ libraries at Google that are used both internally and externally (e.g. FlatBuffers). His previous game career includes work at CryTek (Far Cry), Gearbox (Borderlands 2) and Maxis (SimCity). He helped create the Masters program in game development at The Guildhall at SMU, and has worked on open-source projects such as the Cube Engine.
By night, Wouter inflicts new programming languages upon the world. He has created dozens since the early 1990s, from such classics as Amiga E (one of the most popular languages for the platform) and FALSE (father of a wave of esoteric languages) to the more recent game programming language Lobster. Wouter has a PhD in Programming Language Design and Implementation (on the distributed visual language Aardappel), and has consulted on programming language design. He also enjoys knitting.