The programming language and tool suite that transforms video game production.

SkookumScript is the language that is made for games.
With key game concepts such as concurrency built in, you can create sophisticated gameplay with surprisingly few lines of code.

Now everyone on the team can code.
Even producers.
Simple yet powerful, SkookumScript is a revelation to experienced coders, yet readily accessible to those with no coding experience.

For every game.
On every platform.
Everywhere.
The result of decades of problem-solving in the video game industry, SkookumScript is ideal for both major studios and small indie teams.



SkookumScript is lovingly crafted by veteran game developers. We melt our brains so you don't have to!
Recognized for our dedication, Epic Games awarded SkookumScript a coveted Unreal Development Grant!
Games powered by SkookumScript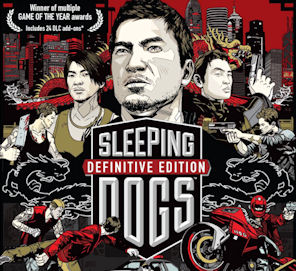 United Front Games used SkookumScript to develop Square Enix's open-world hits Sleeping Dogs and Sleeping Dogs: Definitive Edition.
More SkookumScript games are on the way! SkookumScipt is also being used to develop products outside of the games industry, including architectural and medical imaging technologies using VR and augmented reality.
Praise for SkookumScript
SkookumScript is, without question, the most powerful and efficient scripting language I've used for creating quests in games.

Using SkookumScript, I could finish the scripting component of a mission in as little as a quarter of the time as any other project that used Lua, Bioware's Neverwinter Script or any visual language like Kismet [aka "Blueprints" in Unreal Engine 4].
Superpowers at a superprice!
SkookumScript licenses
Standard
SkookumIDE Standard
You can mix Standard and Pro licences on the same project
Binary Runtime
Pre-built binaries for Windows, Mac, Android, iOS, tvOS
Unreal Engine 4 Plugin
Full plugin source
Apache 2.0 licensed
Standard support

---
Free
forever
Pro
SkookumIDE Pro
You can mix Standard and Pro licences on the same project
Binary Runtime
Pre-built binaries for Windows, Mac, Android, iOS, tvOS
Unreal Engine 4 Plugin
Full plugin source
Apache 2.0 licensed
Standard support

---
$199
per seat
Project
SkookumIDE Pro
For everyone on the team
Compilable Runtime
Full runtime source for Windows, Mac, Linux, Android, iOS, tvOS, XBox One, PS4, custom platforms
Unreal Engine 4 Plugin
Full plugin source
Pro support packages
Varies by project
---
Pricing varies
based on needs
per project