The zany mad scientists at Agog Labs have unleashed a new and megalomaniacally improved beta drop of the SkookumScript Unreal Engine 4 Plugin, the script-tacular power tool that will revolutionize how video game developers work with Unreal Engine 4!
Since our last update we have worked day and night (not to mention the eerie twilight hours between day and night) to make more than 300 changes and additions to the SkookumScript UE4 Plugin, to integrate SkookumScript deeply and elegantly with Unreal Engine 4 and drastically improve user experience. Of particular note, we have hooked SkookumScript into the UE4 scripting reflection system (the same used for Blueprints) to provide you with close to 650 new classes and 6000 new engine bindings.
Many updates have have happened since this post – more than 550 as of 2015-09-08 – and the relevant details are described on the SkookumScript forum to beta testers.
Extra Info on the UE4 Plug-in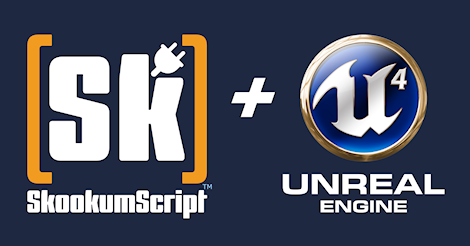 For additional information on the SkookumScript Unreal Engine plug-in see the SkookumScript + UE4 landing page.

Join the beta and give the SkookumScript Unreal Engine 4 plugin a test flight.

If you would like to hear about the latest happenings with SkookumScript, sign up for the SkookumScript forum.