We may be busy following up on all our Game Developers Conference (GDC) activity, but not so busy that we can't rock your world with a new closed beta release for the SkookumScript Unreal Engine 4 Plugin! The new release works with Unreal Engine 4 versions 4.6.1 and 4.7.3.
This is your opportunity to start using SkookumScript in your projects and have some fun. We will be sending more frequent updates as additional functionality becomes available, and as various systems between SkookumScript and Unreal are connected.
Since we are making the source code for the Unreal integration available, you don't have to wait for us to hook everything up—you can add your own hooks into the engine as you wish. SkookumScript is customizable and extendable at the C++ level, and ready to power your complete project!
Those who signed up for previous closed beta rounds will receive an instruction email shortly. If you are not already a closed beta tester, you are invited to apply. If you applied to a previous round and were not selected, you are welcome to apply again. (We recently changed our mail sign-up system, and some emails likely fell through the cracks….)
Extra Info on the UE4 Plug-in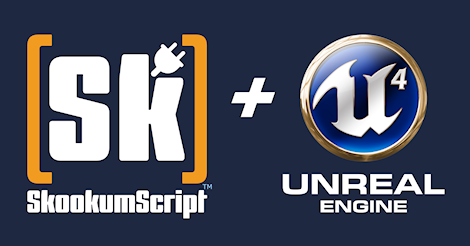 For additional information on the SkookumScript Unreal Engine plug-in see the SkookumScript + UE4 landing page.

To apply for the SkookumScript UE4 plugin beta, please follow the instructions here.

If you would like to hear about the latest happenings with SkookumScript, sign up for the SkookumScript forum.