BCTECH Story: B.C.'s "mad computer scientists" revolutionizing the video gaming industry
November 25, 2016
When Conan Reis, founder of SkookumScript, told colleagues in the video gaming industry that he was writing a new programming language, they told him he was nuts. That's when his title became "Chief Mad Computer Scientist."
Now, this mad computer scientist is revolutionizing how video games are written, and is set to take the global video game industry by storm. "The industry has never had an off-the-shelf, video game-specific language, meaning engineers have been forced to develop games using general-purpose coding languages like C++," said Conan. "This means that gaming scripts are inefficient and error-prone, and are usually scrapped and reinvented for each game at considerable time and expense."
SkookumScript is a game-specific language that even the most inexperienced coder can use. Where a certain action in a game – such as having three robots race each other – might take 70 pages of C++ code to accomplish, SkookumScript can make the same action in six lines of code. Not only can this save the gaming industry money, it will also make games much faster to produce, with fewer backend issues.
"It's also great news for independent gamers – a growing niche in the market – who don't always have the expertise, time and resources to compete with the big gaming companies," Reis added.
A range of services will be available to SkookumScript users, from a free standard suite to paid premium packages. The product also has applications outside of the video gaming sector – any company wanting to design an interactive tool will benefit from this technology. From controlling robots to designing interactive maps, the possibilities are endless.
SkookumScript launched its public beta version in January 2016, and by March 2016 they had users in 46 countries. The SkookumScript Unreal Engine 4 Plugin launched in April 2016, giving them access to a market of three million Unreal developers, and as of Fall 2016, SkookumScript has been used in 91 countries by developers from hundreds of studios. But, they are just getting started. With a modest office of five employees, they are hoping to grow to 40 by next year.
SkookumScript is one of the many companies that have benefited from the programs of the BC Innovation Council (BCIC), a Crown agency of the B.C. government. "Innovation Island and BCIC have provided amazing connections, mentorship and opportunities through the Venture Acceleration Program," reflects Reis. "Coming from a technical background, the crash courses they provide in entrepreneurship and business have been particularly valuable."
Read this story on the BC Tech website.


SkookumScript creator Conan Reis interviewed by CHEK News at Experience Tectoria
September 15, 2016
Experience Tectoria is on, and the mad computer scientists of Agog Labs spent the day spreading the good word about SkookumScript!
Resplendent in his iconic lab coat, SkookumScript creator Conan Reis demoed, and pitched, and blew the crowd away—and he had barely left the stage when the crew from CHEK News nabbed him for an on-camera interview. And now, without further ado, CHEK's piece about Experience Tectoria, featuring everybody's favorite mad computer scientist!

See this piece on the CHEK website here.


SkookumScript leads B.C. government Game Developers Conference release
March 14, 2016
We are the B.C. government's official poster mad scientists for B.C. video game companies at the Game Developers Conference in San Francisco this week! Muahahaha!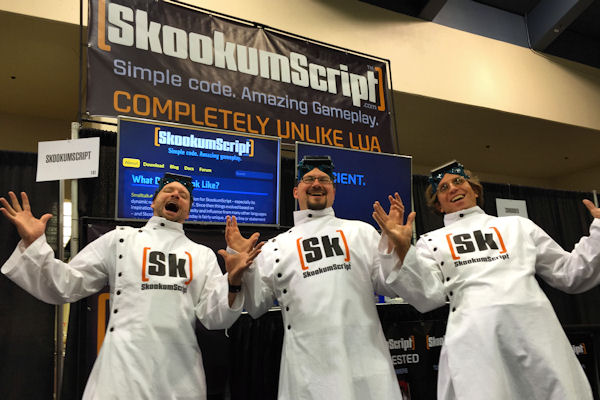 Read the full release "B.C.'s got game at 30th annual Game Developers Conference" here.
As a rising B.C. tech start-up developing cutting-edge tools for the global video game production industry, having an expo booth at the Game Developers Conference is essential for finding new clients and partners. We are grateful to the BCIC Venture Acceleration Program for their valuable connections and mentorship. Our programming language, SkookumScript, is now being used in 44 countries, and after GDC, we're confident that number will grow.
SkookumScript creator Conan Reis interviewed by Google Developers at Founder World in San Francisco
November 20, 2015
Behold Conan's October 28 interview with Dan Feld of Google Developers at Founder World in San Francisco:
We're in the business of doing the things where they say, 'You can't do that!' and we say, 'Yes we can!' It's a very 'mad scientist' ethos, so we call ourselves mad computer scientists.
Also check out Conan's climactic cameo (at 1:26) in this Founder World highlight reel:
Epic Games awards SkookumScript US$15,000 Unreal Development Grant
November 18, 2015
Today the mad computer scientists at Agog Labs are giggling with substantially more glee than usual, for Epic Games has just announced that it has awarded us a $15,000 Unreal Development Grant to support the SkookumScript Unreal Engine 4 Plugin. Read the full Epic Games announcement here.
SkookumScript is a text-based programming language for creating performance-critical gameplay. It's been used in AAA games such as Sleeping Dogs, and it is now available as a free plugin for UE4. The mad scientists at Agog Labs receive $15,000 for their dedication.
Agog Labs and SkookumScript: a BC Innovation Council Success Story
December 6, 2013
The BC Innovation Council is featuring Agog Labs and SkookumScript as one of their "Success Stories". Read the full article "Success Stories: Agog Labs offers an optimized scripting language for game developers" here.
SkookumScript is the world's first programming language specifically dedicated to the creation of gameplay in video games. This unique scripting language enables video game studios to quickly and easily convert ideas into awe-inspiring interactivity, level design and AI.
SkookumScript creator Conan Reis featured in BC Business Magazine article
October 1, 2013
Read the full BC Business Magazine article "Gaming Industry Emerges On North Vancouver Island" here.
In Port Alberni, Agog Labs has licensed its dedicated game development script, SkookumScript, to Vancouver games-maker United Front Games. Both Agog founder Conan Reis, and Hinterland creative director Raphael Van Lierop, spent years building blockbuster games for mainstream studios.